PDF Editor for Windows: edit files with pdfFiller desktop app
Edit, fill out, and e-sign documents uploaded from your Windows device.
Open PDF documents on your Windows device in a single click by using the pdfFiller desktop app. Easily edit, fill out and collect digital signatures for PDF documents online. pdfFiller allows you to save time managing documents and close deals on the go.
Stay productive while on the go
Edit PDFs on your mobile device. Sign and send documents for signing in seconds. Share your PDF via messengers or publish right on your website in a few taps.
Do more with pdfFiller for MacOS
Instantly access your account and upload documents from your desktop. Stay in the loop on document updates with quick notifications.
Connect your pdfFiller account
Install the pdfFiller desktop app on your Windows device and sign in to your account for instant document access.
Customize the app
Set the pdfFiller app to load on system launch to get rid of time-consuming steps. Turn on notifications so you never miss important document alerts.
Open documents in seconds
Open PDF documents in your pdfFiller account on your Windows computer. Choose a specific folder in your account to quickly locate your documents.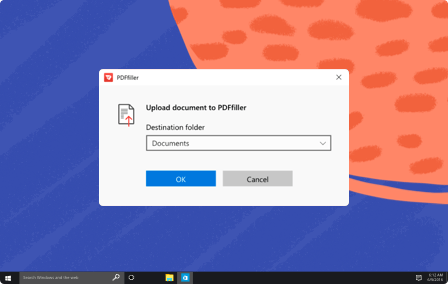 Get instant notifications
Quickly react to all important documents and account activity with pdfFiller notifications. Get instant updates about your account access, signature requests and shared documents.
Modify PDFs on any desktop or mobile device
Open documents in your pdfFiller account and save time editing, filling out or e-signing PDFs online. Type text anywhere on a PDF, edit existing text, images and graphics. Black out confidential details and highlight important information.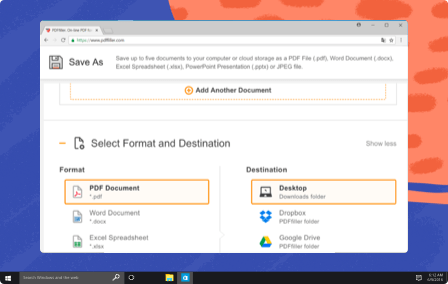 Save and share modified PDFs
Once you've edited documents in pdfFiller, save them back on your computer in any format or share them with others via email, fax, USPS or a direct link.
Application features
Write on a PDF. Erase, highlight or blackout text
Add, delete, rotate or duplicate pages in your document
Import photos and graphic objects
Add fillable fields and dropdown menus
Sign a PDF with a legally binding e-signature
Easily turn any document into a fillable form
Create fillable templates to be used whenever you need them
Enable your business partners to fill out your form by providing them with a link
Secure your data confidentiality by password-protecting your PDF
Set access levels and make sure a form is filled out in the right order
Create a unique ID for any of your documents
Learn More with Guidebooks
PDFfiller app for Windows Help Guide
PDF, 844 KB
PDFfiller Guidebook
PDF, 6.0 MB
How to Use PDF Editing Software in Windows
Windows users may find it problematic to effectively manipulate documents in PDF format on their devices. For instance, a user having to save a PDF file in Word format because they're unable to edit the initial PDF document. When it comes to creating or editing PDFs, there aren't many suitable options out there except for costly downloadable services such as Adobe Acrobat and its alternatives. Luckily, PDFfiller has an answer to the issues of cost and usability.
PDFfiller is a web-based PDF editing software. It enables you to view any PDF, even scanned or screen captured, and change the content of the document in a few simple steps. Get the PDFfiller desktop app for Windows and discover how to close deals, submit applications, fill out forms and sign agreements in seconds.
Work Effectively with the PDFfiller Desktop App
Install the PDFfiller app on your Windows-based computer, tablet or phone and sign in to your account using your PDFfiller credentials. Open the app's preferences to customize the user settings according to your needs. In order to save time and work faster, enable auto-launch on system startup. Don't forget to turn on notifications so you never miss an important notice or alert. To begin using the app, close the General Settings window and follow the steps below:
01
Select a document on your hard drive and upload it to the editor.
02
Edit your document online using the PDFfiller editor.
03
Get a desktop notification once a signature request has been sent to you. View it in the Signature Requested folder.
04
Save the edited document back to your Windows computer or mobile device and share it with your business partners via email, fax, USPS or direct link.
A Robust PDF Editor for Windows Devices
Let's take a look at editing PDF documents in PDFfiller. Begin by right-clicking on your document and opening it in the editor. Go through the toolbar and use the necessary editing tools depending on your task at hand:
01
Change the document structure, style and content. Add, remove, rotate, rearrange and duplicate pages.
02
Revise a PDF and correct mistakes. Annotate PDFs, add comments and sticky notes.
03
Write on a PDF: Adjust font sizes and color. Highlight, blackout or erase text in a document.
04
Draw on a PDF: Add graphic objects, i.e. lines, arrows, circles, check and cross marks, etc.).
05
Import photos, graphs and scanned images in JPG or PNG format.
06
Make a PDF fillable by adding fillable fields.
07
E-sign your document in one click using the Signature Wizard.
08
Add headers, footers and page numbers.
09
Create a watermark and secure your data.
The desktop app is fully compatible with any desktop or mobile Windows-based device. Easily move, resize or delete any field or object you've added. Save the resulting document to  your computer's hard drive or phone storage, send it for signature or share it with other users via a direct link, email or even SMS.
Try PDFfiller today. Improve the efficiency of your workflow and submit important documents in the most quick and accurate way possible.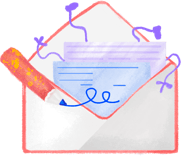 Tell us about your business
Fill out the form on the right so that our sales representative can contact you and provide the best solution for your business needs.